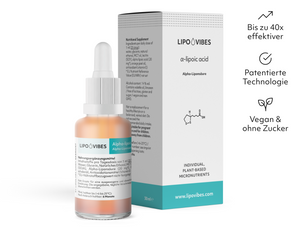 Free shipping to Germany, shipping costs to other countries (EU) €9.90 and free from €50 order value
✔️ BETTER ABSORPTION IN THE BODY
✔️ 100% VEGAN
✔️ 30 DAYS SATISFACTION GUARANTEE
Category: Immune System

Why alpha lipoic acid? Alpha lipoic acid (ALA) is a powerful antioxidant that helps reduce cell damage caused by free radicals. In addition, ALA plays an important role in energy metabolism and can improve nerve health and insulin sensitivity, making it a promising supplement for various health concerns.


This is why you should choose LipoVibes Pure Alpha Lipoic Acid:

1. individual uptake in the body: our scientifically developed nutrient delivery system transports exactly the right amounts of essential vitamins and active ingredients into the cells individually for you.

2. patented overdose protection: the unique protective mechanism reliably prevents overdosing. In a purely natural way.

3. controlled production: Our LipoVibes Pure Alpha Lipoic Acid is developed in our laboratories in Germany and produced according to strict quality standards exclusively from plant-based ingredients. It is vegan and without sugar, gluten, lactose and GMO.


Ingredients: Water, glycerin, ethanol, MCT oil, lecitin (SOJA), alpha lipoic acid, orange peel oil, antioxidant (vitamin E).

Application/ Shelf life: Depending on your preferences, take 20 drops daily pure or mixed with cold liquid.

One bottle contains 30 ml (approx. 40 applications) and has a shelf life of 6 months after opening.

Shipping: Free of charge within Germany, delivery time approx. 2-4 days.

30-day money-back guarantee: Convince yourself of the effect of our products. If you are not satisfied, you will get your money back - no ifs, ands or buts!

Note: Not suitable for pregnant women, nursing mothers and children.
Up to 40 times better
LipoVibes products can be absorbed by the body up to 40 times better than conventional products through unique technology.
LipoMolecule-Technology
Our patented technology makes it possible to permanently combine the active ingredients with particularly small lipid spheres. This is a scientific innovation.
vegan, made in Germany
Our products are vegan and come without sugar. They are also gluten- and lactose-free. To ensure our quality permanently, our products are completely developed and manufactured in Germany.