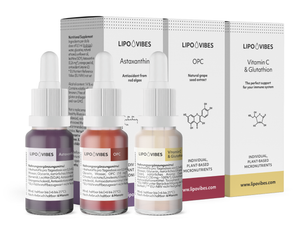 ✔️ BETTER ABSORPTION, NO OVERDOSE
✔️ FREE SHIPPING
✔️ 30 DAYS SATISFACTION GUARANTEE
Category: Immune System
Our Immune System & Cellular Health regimen is a synergistic blend of selected micronutrients with a focus on immune system support and cellular health.
It contains one bottle each of LipoVibes PURE Astaxanthin, OPC and Vitamin C + Glutathione, each containing 10 ml.
Astaxanthin comes from red algae and is one of the most powerful antioxidants. According to recent studies, it may have an antibacterial and antiviral effect. It can also support the body's own detox processes.
OPC (grape seed extract) is also a strong antioxidant. It can recycle vitamins and other nutrients and has supportive effects on the immune system.
Vitamin C supports normal immune system function The amino acid glutathione is also an important component of the body's immune processes.
This is why you should choose LipoVibes products:

1. unique technology, optimal dosage: many manufacturers advertise higher bioavailability. LipoVibes has developed a worldwide unique solution with the LipoMolecule technology, which really achieves better results through long-term stability and very small particle size (below 100 nm). This is why we can develop our products in such a way that only a minimal amount of active ingredient remains unused and the body is not burdened.

2. fast absorption in the body: LipoVibes products are not only absorbed by the body much better, but also much faster than comparable products. We achieve this by using body-related lipids, which also make up the outer shell of human cells. Our active ingredients can be detected in the blood plasma just 5 minutes after ingestion.

3. controlled production: all LipoVibes products are developed in our laboratories in Germany and manufactured exclusively from plant-based ingredients according to strict quality standards. They are vegan and without sugar, gluten, lactose and GMO.
Ingredients (6 drops each)/ Application:

Astaxanthin: Glycerin, water, ethanol, sunflower oil, lecithin (soy),
orange peel oil, astaxanthin.

OPC: Glycerin, water, ethanol, glyceryl citrate/lactate/linoleate/oleate.
Orange peel oil, OPC.

Vitamin C + Glutathione: Glycerin, water, ethanol, lecithin (soy), natural flavour (sour cherry), vitamin C, glutathione, antioxidant (tocopherol (vitamin E).

Depending on your preferences, take 6 drops daily pure or mixed with cold liquid.



Shelf life: One bottle contains 10 ml and has a shelf life of 6 months after opening.

Shipping: Free of charge within Germany, delivery time approx. 2-4 days.

30-day money-back guarantee: Convince yourself of the effect of our products. If you are not satisfied, you will get your money back - no ifs, ands or buts!

Note: Not suitable for pregnant women, nursing mothers and children.