The evolution of bioavailability
In the development of transport technologies for active ingredients/nutrients, our patented LipoMolecule™ technology is currently the best method for reaching the desired targets in the body quickly and efficiently.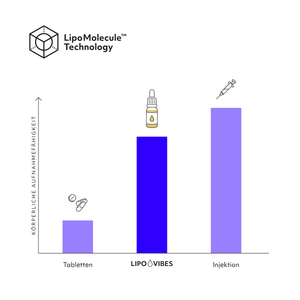 LipoVibes - faster & better
Bioavailability is in the field of active ingredients the term used to describe the proportion of the quantity taken, that can get absorbed by the body. With conventional products such as vitamin tablets, a significant proportion remains unused.
LipoVibes products, in comparison, achieve significantly increased bioavailability through the patented LipoMolecule technology. In addition, the active substances are absorbed significantly faster.

Patented technology
The outer shell of the body cell is a barrier that restricts the absorption of active ingredients.
The LipoMolecule technology used in LipoVibes products combines the active ingredients with lipids, which are also found in the cell envelope. This allows them to overcome the uptake barrier and effectively enter the cell. Very precise dosing is made possible.
LipoVibes products can thus be absorbed by the body up to 40 times better than conventional products.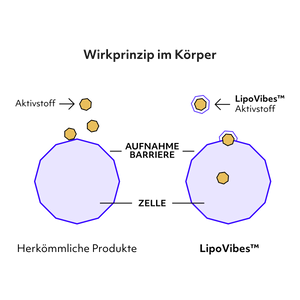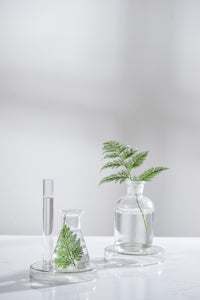 Vegan
All our products are vegan by conviction, that is, made from 100% plant-based ingredients. In addition, we do without sugar and genetic engineering. Gluten and lactose also have no chance with us.
And even away from the ingredients of our products, we give thought. So we largely do without plastic and have changed our packaging material almost completely to sustainable materials. Our shipping carton, for example, is made of recycled cardboard and grass.
Made in Germany
Our products stand for scientific precision and uncompromising quality. We want to ensure this permanently! That is why the entire production process from development to manufacturing and filling takes place entirely in Germany.
In addition, we continuously conduct extensive laboratory studies, also in Germany, for the quality assurance of our products.
.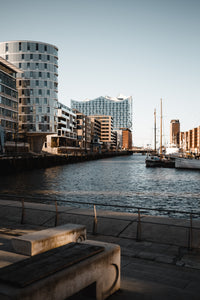 Discover our products and see for yourself. 30 days money back guarantee!