How to get through winter and stay healthy - 7 tips for a strong immune system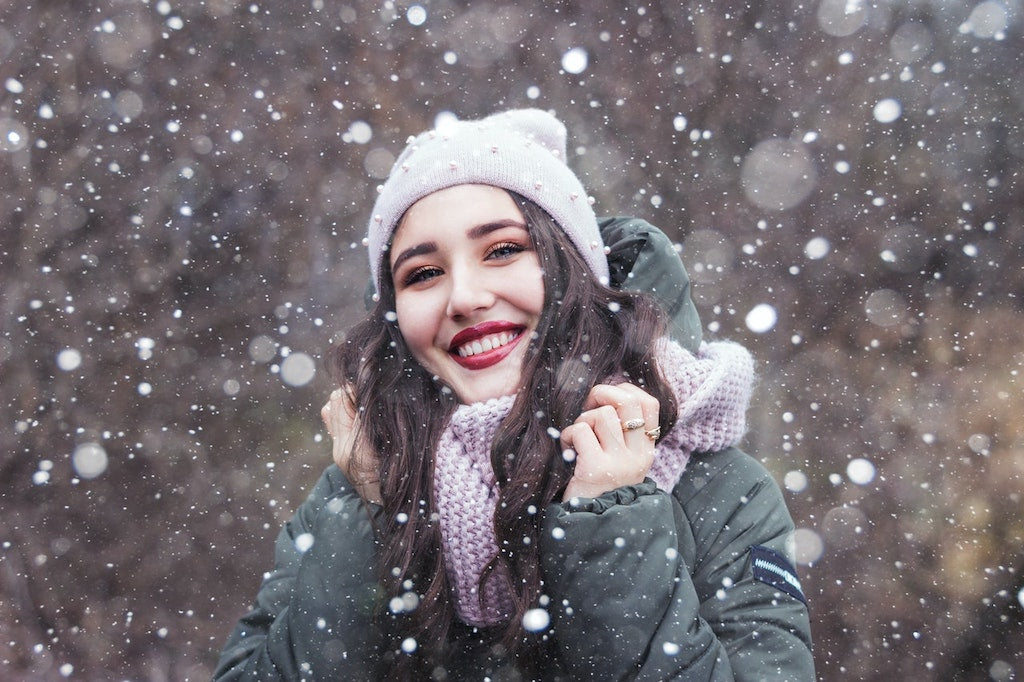 Every year: shorter days, less sunlight and being outside - hello, cold season! How to take good care of yourself and protect against seasonal illnesses: Our best 7 tips.
Staying healthy in winter: Here's how
In winter, we can not only enjoy snow and Christmas cookies, but should also arm ourselves against illnesses due to the increased risk of catching a cold. Wet and cold weather outside and spending a lot of time indoors ensure that viruses and bacteria have a large attack surface. Fever or worse illnesses can really spoil the fun of winter. Therefore, the question arises: How do you get through the winter in good health?

What tricks are there that you can take into account and that are easy to implement? We tell you what you can do for your body to get through the winter healthy.
Vitamin C - the wonder drug in winter?
Perhaps you are also one of those people who unknowingly suffer from a vitamin C deficiency. Vitamin C, also called ascorbic acid, belongs to the group of essential vitamins. This means that your body cannot produce the nutrient itself - it must be supplied from the outside. Managing this exclusively through food can be difficult. Vitamin C supports the work of our immune system and is also responsible for the absorption of iron and the formation of connective tissue and bones.

You can get a winter push of vitamin C by taking it as a dietary supplement with high bioavailability. LipoVibes Pure Vitamin C, for example, can be absorbed by the body particularly effectively thanks to the patented LipoMolecule technology. This ensures that the valuable vitamin arrives directly in your cells and not, as with conventional products, the majority remains unused.
Fresh air and toughening up
In winter, you like to spend a lot of time indoors because it's just too uncomfortable outside. However, your body needs oxygen and the temperature difference to boost circulation and also metabolism. This usually shuts down in the winter and causes the body to be less resistant to disease.

I know no one likes to hear that, but:

So when it's raining or chilly outside and snowing, you should still take a walk and get some fresh air. By doing so, you'll toughen up your body and get it to strengthen the immune system in a healthy way. In the long term, the deliberate cold-warm change will make you less sensitive to cold stimuli. The same effect is achieved by sauna sessions, which are also known to consciously get the immune system going through a high temperature difference.
Alternating showers at home
Alternating showers also act as a real booster for our immune system. The beauty of it is that you don't even have to leave the house to use it. You can easily integrate this tip into your daily routine by making alternating showers a daily habit. Ideally, you follow the pattern of warm/cold/hot/cold (ending with the cold phase) and do not exceed a time of ten minutes.

This kind of shower is not only a good wake-up in the morning, but during the cold season it strengthens your blood circulation and prevents colds. The alternating cold and warm stimuli exercise the capillaries and get the circulation going. Afterwards you feel fit and prepared for the cold temperatures.
The full force of antioxidants
Antioxidants are also an important building block for the vital functions in your body. These are compounds that protect your cells from oxidative stress and free radicals. They help keep your immune system intact and protect you from disease. Antioxidants, like vitamin C, can also be taken in liquid form.

Like all antioxidants, astaxanthin can protect cells from free radicals, which can potentially help strengthen the immune system. It is a purely natural substance from which, for example, the shells of crustaceans have their red color and is one of the most effective antioxidants found in nature.
Foods containing iron
Iron plays an important role in the body and a deficiency can lead to a weak immune system. Far more people than you think, especially women during menstruation, suffer from an iron deficiency - and do not pay enough attention to iron-rich foods in their diet.

Especially in winter, you should include nuts, seeds, legumes and dried fruits in your diet. For example, a lentil stew with fresh soup vegetables is the ideal dish for an iron-rich food intake. Meat, fish and poultry are also rich in iron, but they are metabolized in an acidic way, which results in some waste products for the body. A plant-based or alkaline diet is better. By the way, vitamin C supports the absorption of iron in the blood.
Früchte als zusätzlicher Vitamin-Lieferant
You will also get through the winter in good health if you regularly consume lots of fruit and fresh fruit. Fortunately, supermarkets also offer an appropriate range of tropical fruits and berries during the cold season. Kiwis, acerola cherries, lemons, oranges and grapefruits are particularly rich in vitamins. The most fun way to eat them is in the form of a colorful smoothie, although it is of course also important to eat the fruit in its whole form - with all its fiber.

Apples also contain vitamins A, B1, B2, B6 and E in addition to vitamin C. If an apple is too boring for you on its own, you can cut apples into pancakes and muesli, for example. However, the peel should always be left on and eaten, as it contains the most nutrients.
Off on vacation - the sun vitamin D
Vitamin D plays a central role in the defense against diseases: Without the substance, certain defense cells cannot be produced. We can absorb vitamin D through our skin by exposing it to sunlight. In winter, of course, this is difficult in this country. If you don't want to take supplements, you should use every single hour of sunlight to sunbathe (even with a jacket on the balcony or terrace if necessary).

However, it is nicer to spend a winter vacation in the sun and by the sea. The combination of vitamin D and healthy sea air are a real boon for your immune system. And if time or budget doesn't allow a vacation to the sunny south, you can think about buying a daylight lamp instead.