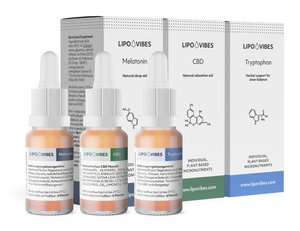 ✔️ BETTER ABSORPTION, NO OVERDOSE
✔️ FREE SHIPPING
✔️ 30 DAYS SATISFACTION GUARANTEE
Category: Relaxation, Sleep
Our relaxation cure is a synergetic combination of selected micronutrients with a focus on stress reduction, optimisation of sleep quality and regeneration.
It contains one bottle each of LipoVibes PURE Melatonin, CBD and Tryptophan, each containing 10 ml.
Melatonin is a sleep hormone and helps you fall asleep naturally.
CBD has stress-reducing effects that support the process of sleeping through the night.
Tryptophan is the precursor of the happiness hormone serotonin. A high serotonin level supports the feeling of happiness and contributes to a balanced mood.
That's why you should choose LipoVibes products:

1. unique technology, optimal dosage: many manufacturers advertise higher bioavailability. LipoVibes has developed a worldwide unique solution with the LipoMolecule technology, which really achieves better results through long-term stability and very small particle size (below 100 nm). This is why we can develop our products in such a way that only a minimal amount of active ingredient remains unused and the body is not burdened.

2. fast absorption in the body: LipoVibes products are not only absorbed by the body much better, but also much faster than comparable products. We achieve this by using body-related lipids, which also make up the outer shell of human cells. Our active ingredients can be detected in the blood plasma just 5 minutes after ingestion.

3. controlled production: all LipoVibes products are developed in our laboratories in Germany and manufactured exclusively from plant-based ingredients according to strict quality standards. They are vegan and without sugar, gluten, lactose and GMO.
Ingredients (6 drops each)/application:

Melatonin: Glycerin, water, natural ethanol, sunflower oil, lecithin (soy), orange peel oil, melatonin.

About half an hour before going to sleep, take 3-6 drops daily.

CBD:

Glycerine, water, ethanol, sunflower oil, lecithin (soy), hemp extract (CBD content: 2.5% - equivalent to the effect of a conventional CBD oil with 15% CBD content), copaiba oil, orange peel oil. THC content below 0.01%.

You put 3-6 drops of our CBD mouth oil under your tongue every day, depending on your individual needs, and leave it there for about a minute so that it can take effect.

Tryptophan: Glycerin, water, natural ethanol, lecithin (soy), orange peel oil, L-tryptophan (7.5 mg*), antioxidant (tocopherol (vitamin E)).

Depending on your preferences, take 6 drops daily pure or mixed with cold liquid.
Shelf life: One bottle contains 10 ml and has a shelf life of 6 months after opening.

Shipping: Free of charge within Germany, delivery time approx. 2-4 days.

30-day money-back guarantee: Convince yourself of the effect of our products. If you are not satisfied, you will get your money back - no ifs, ands or buts!

Note: Not suitable for pregnant women, nursing mothers and children.